While it's been a while for many of us, see if you can remember the first time you saw THE ALAMO on the big screen.
(Or, for those of you who never had that opportunity, on the little (TV) screen.)
My first memory of THE ALAMO is of seeing the TV trailer in late 1960. I was 8
1/2
years old and those spectatular battle scenes really blew me away. I was particularly impressed with the scene where the Texans would rise up as a body from behind the wall, fire off a volley, and then duck back down again. I wanted so much to see this movie! But, as eager as I was, I still had to wait until the film showed up at the local bargain cinema, The Baldwin, where Tuesday night was a dollar admittance for the entire family. Being 8
1/2
, I got a big kick out of the shenannigans of Crockett's Tennesseans, particularly the feather fight between Bull and Crockett. (Go ahead and wince, Rich and get it out of your system). I also particularly liked the raid for cattle, the attack on the big gun and the two assaults. But the main thing that held me mesmerized was the appearence of the Waynamo facade. It was so haunting and mournful and it still has that effect on me, even to this day.
I attended a parochial school in 1961 and we didn't have a school library, per se. Rather each classroom had a shelf of books in the back that were deemed appropriate for that age level. Well, the day after I saw THE ALAMO in the theater, my classroom bookshelf got a new addition, namely William Weber Johnson's juvenile novel, THE BIRTH OF TEXAS-----and it was about the Alamo! The illustrations in the book made a major impression on me, particularly the overview of the compound. I tried to relate that illustration to the Alamo I had just seen on the big screen and it was a bit confusing. From comparing the illustration to the film's Alamo , I came to the conclusion that Laurence Harvey had died outside the walls!
Anyway, after that, I was a dye-in-the wool Alamo buff and yet remain one.
So, what's
your
story?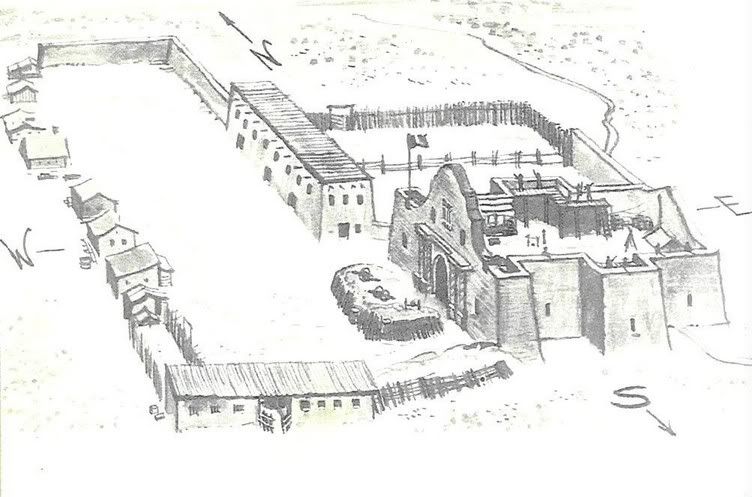 From William Weber Johnson's 1960 book, THE BIRTH OF TEXAS. (artist, Herb Mott), showing how Laurence Harvey's Travis had
died
outside the walls!